Devanét® has been developing a range of Vegan leather products in cooperation with a number of innovative manufacturers of this environmentally friendly product. There is however a lack of general understanding of what is really Vegan leather as many people seem to think it is vegetable based, this is far from the truth.
There are two specific sectors of what is referred to as VEGAN leather and should be broken down into natural and man made. Man made Vegan leather is also referred to as faux leather.
Vegan man made leather, is often manufactured from Polyurethane based material, sometimes PVC (Poly Vinyl Chloride) but PVC has other harmful substances and cannot be truly an eco friendly material. Other Vegan man made leathers are made from recycled textile polymer composites..
Vegan leather can also be used from recycled plastics where waste plastics are combined with other man made raw materials to make leather.
There are products now being made which use the waste leather and recycle it into usable leather and many car manufacturers, airlines, and trains use this type of dual reprocessed leather to help the environment - so although not Vegan leather - these products are helping in some way, however it must be stressed they are not Vegan as they still use animal skinned leather, although reconstituted.
Vegan natural leather has become more prevalent in many facets of industry using raw materials like cork, fruit waste, coffee beans, pineapple leaves and more innovative developments are ongoing.
ECO FRIENDLY
More than a billion animals are slaughtered every year for their skins and other things, the processing of leather has a detrimental affect on the environment although changes are being and are made to reduce this by using vegetable dyes. Nevertheless there are worthy considerations to look at planet earth friendly products, or at least products that do not add to the damage plastics and animal skins are having on our environment.
Vegan leathers man made are eco friendly, they do minimise waste. They have positive characteristics, can be made in various colours and thicknesses, they can be breathable, waterproof, stitchable, capable of being embossed, laminated to other substrates, however they are not without their failings, as no vegan man made leather is 100% bio -degradable. However we are working with the manufacturers to develop products that are helping in some way to reduce our carbon footprint, use recyclable materials and are an alternative to natural leather.
So onto natural Vegan leathers, Cork of course is a natural vegan leather, which when created with other products are sustainable, can be recycled, are environmentally friendly and possess many benefits in the make up of belts, hand bags, wallets etc. It is waterproof, stain resistant, interestingly harvested cork absorbs more Carbon Dioxide than unharvested cork. In hot climates like Portugal cork is more sustainable over other trees because it's bark does not burn easily. Most cork leathers are backed with a fabric to improve its structural integrity when created as sheets or rolls.
We love Cork leather as it is a natural earth friendly product, it can be processed in so many ways, it is sustainable and above all Cork leather is versatile and can be made into so many different products with a little ingenuity.
Devanet® have developed a range of Vegan leather cork products and are working with other cork producers to offer a wide range of this socially and eco friendly natural products, from belts, wallets handbags, key rings, corporate gifts and home accessories.
SUSTAINABLE VEGAN LEATHER
A new product we have found and tested has to be one of more innovative products more suited t our needs, certified by the LCA as the most sustainable product againts any other fake leather, it is also USDA bio preferred. It is PETA approved.
So what is it made from, it is made from Corn, it is classified as a PU because it is made up of the polyols from corn and PU and because is it bio based rather than oil based, it is sustainable. Because it does not come from a petroleum based product it is more environmentally friendly, has less impact on human health or climate change.
The material comes in rolls, sheets and production cut and finished components, belts and finished small leather goods. It is ideal for bags, shoes, sports applications and name tags in adddition to many other potential innovative products.
Rolls are as standard 1400 mm wide and come in rolls
Another product in the range is called Active, it is an alternative to PVC and is ideal for embossing/debossing name labels, end tabs, zip pulls, liners and backings.
Here are some examples of the products we are creating and using for our Vegan leather range.
There are several grades the colours are shown below, special colours can be made to order, please ask for details.
The vegan classic and other items are usually available within 1-2 weeks depending upon width of cut, roll and sheet size, full rolls are much quicker and subjuct to stock can be as little as 4-5 days cor complete your order. Samples swaches are available on request.
CLASSIC COLOUR RANGE
NUBUCK VEGAN LEATHER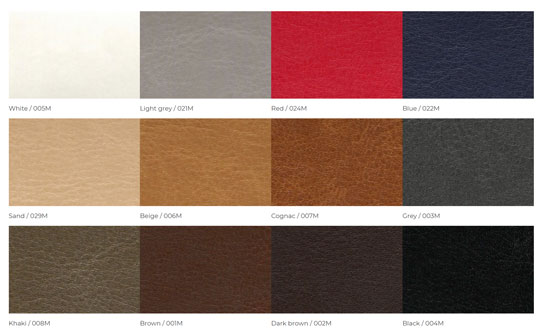 MATT VEGAN LEATHER
VEGAN LEATHER TEXTURED COYOTE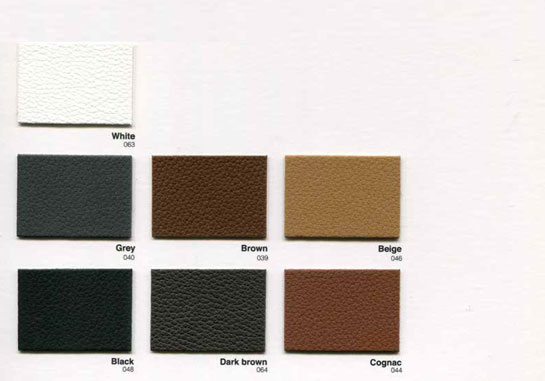 VEGAN LEATHER TEXTURED DAMA
Our second product is called ECOSPORT VEGAN , is produced with 50% PU and 50% PA+\- 10%, it does not contain any PVC for good reason. The finished material satisfies Reach Rules and California Preposition 65. This Vegan leather is finished using water based pigments.
ECOSPORT VEGAN possesses characteristics and features that closely resemble leather buit with added benefits. It is lighweight, washable, durable, it cuts without fraying, it is non toxic, non allergenic and abrasion resistant.
ECOSPORT VEGAN can be dry cleaned with fluorinated hydrocaabons, ironed on the baclk at 100 c and can be pressed on the front face as long as damp cloth is used on the face. It cannot be cleaned or treated with Chlorides or alcohol as these will soften the material and it will loose it inherent properties.
Devanet® have tested the ECOSPORT VEGAN material is a production environment and found excellent workability, for heat embossing, laminating, die cutting, edge dyeing and burnishing, stitching and bonding to other subatrates. Stretch is limited by the processing applied by Devanet®
The ECOPORT VEGAN leather is supplied as standard in 1.5 and 2 mm thickness, and Devanet can laminate up to 3 or 4 mm thickness as required. The material is supplied in rolls of 1400 mm width and 20 metres long.
Devanet® have tested the products for applications including belts, wallets, card holders, coasters, keyrings, dog collars and leads, iphone and ipad covers, jewellery such as bracelets, scarf rings and the material can be also used to convert products for home use such as table mats, handbags, furniture, car seats,
If your company is interested in our ECOPOSPORT VEGAN leather and how we can make products for you, please contact our sales office for further information.
CORK LEATHER - NATURAL VEGAN LEATHER MATERIAL
We know that cork is a tree based natural resource that is converted into various ecofriendly products. It is a truily unique material blessed with inherent features that makes it viable for so many applications from sport, automative, safety, fashion, decor and corporate gifts.
Devanet® will supply the vegan leather products either converted into finished goods or supllied as raw material for you to make your own products. Cork leather is supplied as standard at 1mm thickness, Devanet convert this material in to different thicknesses with eitther a suitable backing or using wrap technology to create a special fold over that does not leave a raw edge. In addition addition thicknesses can be achieved using an interlayer where the coloured cork is wrapped over a liner to give it more strength and body to make it more suitable for products like belts, dog collars, dog leads etc.
Thicknesses up to from 2 - 4 mm are achieved and can be adjusted by altering the interlayer. Where the ends are exposed in straps and die cut pieces, Devanet can edge finish and dye in the case of a belt or produce custom made end tips. Below you can see some examples of the colours and variations you can order.
| | |
| --- | --- |
| | |
| Wine Red | Dark Blue |
| | |
| Brown | Black |
| | |
| Red | Mint Green |
| | |
| Light Brown | Mustard Yellow |
| | |
| Turqouise | Lavender |
| | |
| Cherry | Pumpkin |