cONIEX ENAMELS -
Devanét® has concluded an agreement with Coniex to promote their superb range of enamels in the UK. After significant testing in a production environment, not only did these enamels perform above similar compeititors, but the ease of application with both large and detailed areas to colour fill was more than impressive. Colours are pre-mixed and supplied in a range of primary colours, which can then be blended to easily form other colour mixes. Being a two part system, the ratios are easy to follow. We have been colourfilling with enamels for over 5 years and Coniex has been exceptionally easy use and they have produced a range of catalysts from the straight forward to products which have pronounced curvature. With curing rates in 30 minutes possible this makes the problems of air curing issues with winter conditions affecting curing a thing of the past,
CONIEX manufacture their own enamels, Esmaltex. They are available in a wide range of colors including opaque, transparent, fluorescent and pearl. Its excellent quality provides a high gloss finish and great resistance to light, impact or abrasion. They also have several types of enamel so that you can adapt it to any piece or surface, be it curved, flat, with edges or that requires greater flexibility.
The products in the Esmaltex range are the only enamels without Bisphenol A (BPA) on the market. The BPA is an organic compound present in the majority of products made of plastic and which is associated have many negative effects to the health of living beings, including mismatch endocrine system, cancer or diabetes. You can visit this post to know more about it.
Enamels that can be applied to curved products are now possible, enamels that are flexible and other enamels including flexible doming resins for promotional gifts, logod keyrings and badges.
Coniex enamels are designed for the user, easy to apply, free flowing or thixatropic and even an enamel to help with application of crystals.
Training
Without question, Coniex are not just a manufacturer and supplier, they want to ensure that customers know how to get the best results using their enamels, and the company provides excellent training in all the relevant applications. The training setup you see below is currently undertaken at the head office in Spain but will also be established in the new building Devanet is having extended to include a training facility and showroom at its factory in Congleton, Cheshire. In the interim training is available for small groups in the UK, please ask for details.
Customers who would like to know more about Coniex and enamels, would like to attend a training session or would just like more information, please contact our sales office in Congleton.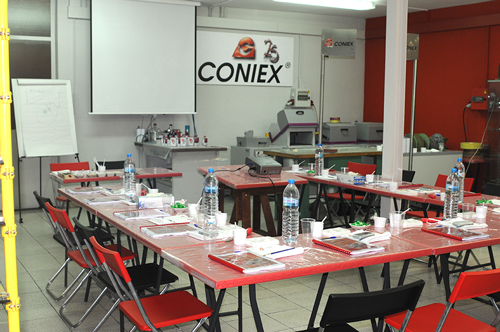 Coniex enamel training facility - full also training available at the Cheshire factory
A Coniex traning day where participants learn the art of enamelling and processes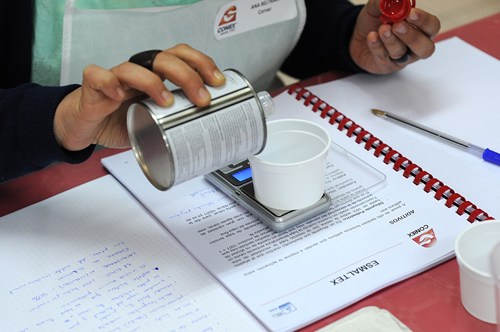 Coniex Training Additives- correct weighing and mixing procedures
Coniex have established a gobal network of customers who supply or use the range of Coniex enamels, The applications for the enamels extend across many platforms, here are just some of the applications for Coniex:
1) Gifts
2) Promotional items
3) Buttons, clothing
4) Belt buckles. footwear
5) Fashion, fine jewellery
6) Medals, badges, pins

7) Spectacles, glass frames
8) Fine arts, glass, wood, ceramics
9) Photo frames
10) Automotive and sports
11) Faucets and bathroom accessories
12) Fixing of crystals, semi precious stones
13) Keyrings, fridge magnets
14) Hair ornaments, bag charms
These market sectors are just examples of where high quality epoxy enamels can be used.
The chart below provides information on the selection of enamel and catlyst for various applications. Worthy of note is the ability to accelerate the curing cycle and the where high Thixotrpic hardness is required where therre are pronounced curves in the pieces being enamelled. The chart illustrates the Viscosity and Gel time for each Catalyst.
The Coniex Range of Colour Options
Below are some examples of what products can be enamelled, they are only a small sample of the extensive range of applications where enamel colour filling can be used.
| | |
| --- | --- |
| | |
| Enamelled Brooch | Enamelled Bracelet |
| | |
| Enamelled Rectangular Belt Buckle | Enamelled Circular Belt Buckle |
| | |
| Enamelled Hairslide | Enamelled Jewellery |
| | |
| Enamelled Keyrings | Enamelled Gold Finished Buckle |
| | |
| Enamelled Silver Belt Buckle | Black enamel centres - cufflinks |
| | |
| Centre bar buckle - black enamel visa logo | Enamelled Buckle For Norton Motorcycles |
| | |
| North Staffs League Golf Buckle | Union Jack Buckle |
| | |
| Devanet Enamelled Golf Buckle | Enamelled Cowboy Buckle |
| | |
| Enamelled Keeper in black on silver | Custom Enamel Buckle for Adidas |
For questions, data information sheets on Coniex please contact the sales office