Golf belts for kids - ladies - men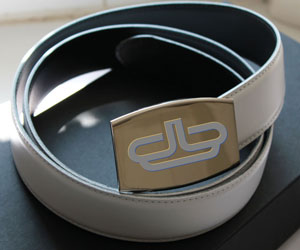 Devanét have designed a range of golf belts to cater for a wide golfing audience from kids who want to emulate the professionals on tour to club profesionals who require the the exclusivity of their club logo on the buckle, to league teams, academies, societies and last but not least the individually gift beautifully packaged and personalised.
Devanét has inhouse facilities to Design with it's own CAD/CAM software your own golf club buckle. produce the raw component on our CNC9070 Milling machine, add the prong and buckle bar, then pretreat, polish and plate to your desired finish. Completely made by us in Congleton we can create team and club belts, sports awards or wholesalers with their own branded golf belt.
Devanét has designed and produced under the guidance and approval of Adidas the golf belts for TEAM GB Rio Olympics 2016. A custom made solid brass buckle, with milled logo and palladium insert then finished with a high lustre. The leather specially treated dyed through leather hide, each buckle was fitted with purpose made metal keeper and a custom made clamp to allow the golfers to fit the belt to their requirements.
The second belt, over 1000 belts were made but with a different custom made clamshell buckle with the ADIDAS logo encapsulated and colour filled. The buckle was specially designed and shaped. The webbing was a matching navy belt webbing with end tip. Each belt was designed so that the user could adjust the size for their waist.
A golf club approached us with a view to undertaking something different to same old prizes given out every year which people don't keep, do not promote the club and are an expensive throw away. The club professional and members decided on a golf belt with various buckle styles and colours to determine the majors and medals, the crest was custom milled and colour filled, The belts were offered in a variety of colours to suit personal preferences. on the back of each belt the name, date and competition was engraved for the recipient.
Devanet have introduced the new fixed full colour crested golf belt buckle and matching leather belt, produced in 30, 35 and 38 mm wide, the buckle is a top quality finished insert buckle which will take a full colour logo, design or club crest up 51 x 30 mm, the finish is with a durable resin coat. These golf belts are ideal for any corporate or club who wish to create a strong brand image with a professionally finished leather belt.
Sporty golf web belts in addition to the leather range are very popular, buckles are interchangeable so that a selection of webbing colours can match different attire. Packages of multiple colours are custom made for each team or individual. Web belts come in active stretch and rigid and are available in a wide range of colours, in 3 widths 30, 35 and 40 mm. Special large sizes up to 6XL can be made to order and kids belts from age 3 years upwards.
Designed for Team GB for the Rio Olympics 2016
Designed for Team GB Golfers - RIO 2016
Golf Buckles & Golf Belts typical examples
DV10308 Magnetic Marker

SUGC Golf Buckle

DV10309 golf ball marker

Square D ring golf belt

Devanet custom golf belts

Canvas Golf Belt

Supporting Junior Golf

Henry Cooper Junior Masters

European Junior Golf Tour

Tommy T Tour
These images are not for resale are purely to illustrate designs we can produce.