The prototype depicted below is a Devanet custom 60 mm diameter Pisces Rose Gold Belt Buckle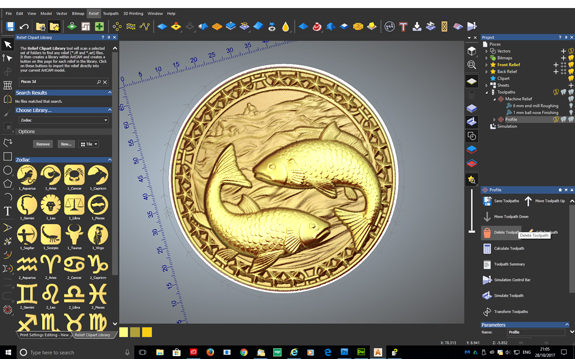 Devanet Prototyping Service
One of the key attributes about being able to offer a UK Manufactured prototype means that customers can have a product designed and made in a relatively short timeline and if necessary visit the factory to see the result. Devanet have introduced a rapid prototyping service with its scan and 3d print technology whereby prototypes can be made from existing objects modified and printed to show customers, get approval before molding or machining. Alternatively producing a design from a sketch, machining and finishing the product in solid brass can be done in a as little as a few days if really pushed.
Prototyping a product is the right approach to ensure that the product is designed correctly before full scale production is undertaken. It is this service that Devanet offers more than any other UK competitor in its field. From an idea - graphic design - modelling - casting/machining - fettling - tumbling - plating and branding are all undertaken in house. Although a small family orientated business, the company has continued to invest every year to improve its abilities and increase response to customers requirements.
The brief
The Picture
The Final Prototype
What you can see from the above three illustrations is what you are presented with and the final product can be quite different and if you consider the brief the image does not look anything like the bridge in the picture, a picture was sent and from that a complete redraw was undertaken to get the Bridge to resemble more like the picture.


The redraw was approved with the specification to produce a buckle with an antique silver finish, the bridge also was created in relief so it stood proud of the buckle face, the finish a belt buckle prototype that can finished in silver, gold polished or left as is. ready to go to casting.
Zodiac Buckles
From the STL file the ability to turn a 3d model into a 3d print ready for casting a mold
and finising the product with buckle bar and prong to make a belt buckle, pendant, charm or keyring are just some examples of how Devanet can create products for customers.

From a basic design brief we can create your own exclusive branded products, if you would like your own range of gifts, buckles, belts and would like to make use of our dedicated prototyping facility, please email sales@devanetbelts.co.uk or call our sales office.
Devanet provide the following inhouse services: graphic design - modelling - 3d scanning & print - CNC machining - Fettling - Tumbling to preplating finish - Plating - Branding